MANCHESTER UNITED vs. OLYMPIAKOS Live Stream Online: 2014 UEFA Champions League, Live Coverage From Manchester, Projected Lineups and TACTICAL PREVIEW
Sign Up
for Sports World News' Newsletter and never miss out on our most popular stories.
Two clubs chasing UEFA Champions League glory will do battle today in a cup match between Manchester United and Olympiakos. The Round of 16 clash scheduled for 3:45 p.m. ET will be held at Old Trafford in Manchester and can be live streamed here. Additional TV coverage can be found on Fox Sports 1.
For Manchester United manager David Moyes, today's confrontation with the Greek power is of great import. Rumors of his impending sacking have run rampant following United's embarrassing loss to Liverpool over the weekend. Moyes, however, remains bullish and is strictly focused on a victory later this evening (h/t to Jamie Jackson of the Guardian). "My future has not changed one bit," Moyes said. "I have got a great job, I know exactly the direction I want it to go in. It's not been the season we hoped we would have but I have ideas of what I want to do and put in place when the time is right," he added.
"The most important thing now is to get the Olympiakos game played and hopefully get through. If we can it would be a massive lift but we know we have got ourselves in a poor position being 2-0 down. We have got a lot of belief and we have got to try to make it show in the game."
Will Manchester United show their true character, or will they continue to slide toward failure? Tell us @SportsWN
Tactical Preview
Player to Watch: Olympiakos' Joel Campbell stunned United in the first leg with a world-class strike that lifted his club to a 2-0 victory. The Costa Rican international will look to add to his nine-goal campaign at Old Trafford.
Manchester United's Projected Lineup (4-2-3-1): Gea; Evra, Ferndinand, Vidic, Rafael; Carrick, Fellaini; Januzaj, Rooney, Valencia; Persie
Olympiakos' Projected Lineup (4-2-3-1): Roberto; Bong, Manolas, Marcano, Salino; Ndinga, Maniatis; Fuster, Dominguez, Campbell; Valdez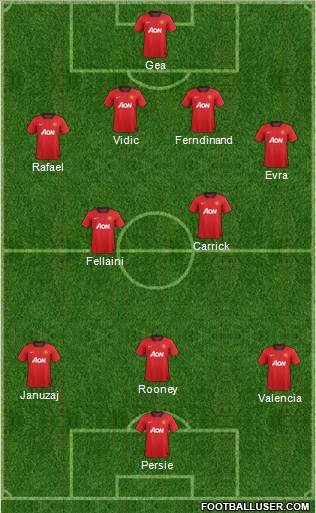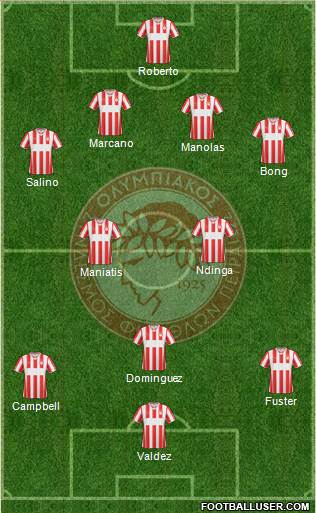 Like Us on Facebook
© 2016 Sportsworldnews.com All rights reserved. Do not reproduce without permission.