NFL Rumors: Urban Meyer believes Tim Tebow will return to NFL? Tebow's legacy on the line? [GIFS]
Sign Up
for Sports World News' Newsletter and never miss out on our most popular stories.
Just when you though that Tim Tebow would settle into his new role on television for the SEC, his old coach Urban Meyer had to stir the hornets nest. Meyer said he believes Tim Tebow is hopeful for another shot at the NFL.
Meyer said that Tebow "works every day" and is "hoping" for another chance at the NFL.

"There are some conversations about it. I don't know too much. There's hope and he says there's stuff going on."
This is nowhere near a guarantee we will be seeing Tebow back in the league anytime soon, but the chance remains dormant as Tebow apparently works out as if he is still looking to play.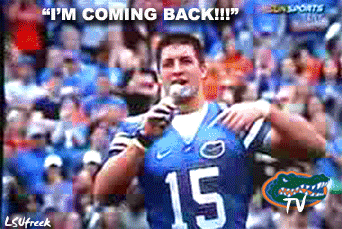 The media monster that is Tim Tebow was created by both the legend of his improbable victories with the Broncos and the Skip Bayless' of the world dumping gasoline on the subject.
Tebow was an fantastic college quarterback who didn't translate well to the NFL game. Josh McDaniels saw something in him that led him to select Tebow in the first round which probably cost him his job in the long run.
Will Tebow get another shot as a starter? Probably not. Will he be looked at as a possible backup option if the media storm that follows him subsides? Most definitely. Tebow's refusal to play any other position then quarterback also hinders his value to the team as a whole. If Mr. Tebow wants a NFL career he will will smarten up and make himself available at other positions.
Who do you think would be interested in Tebow? Tell us @SportsWN
Like Us on Facebook
© 2016 Sportsworldnews.com All rights reserved. Do not reproduce without permission.