ALAJUELENSE vs. TOLUCA Live Stream Online: 2014 CONCACAF Champions League, Live Coverage From Alajuela, Projected Lineups and TACTICAL PREVIEW
Sign Up
for Sports World News' Newsletter and never miss out on our most popular stories.
Two clubs chasing CONCACAF Champions League glory will do battle today in a cup match between Alajuelense and Toluca. The seminal clash scheduled for 8 p.m. ET will be held at Estadio Alejandro Morera Soto in Alajuela and can be live streamed here.
L.D. Alajuelense are looking to crash the CONCACAF Champions League party. The Costa Rican outfit is the only non-Mexican club remaining in the tournament, something they'll look to use to their benefit. The first leg of the semifinal tie will be held at the Estadio Alejandro Morera Soto—a stadium that has never seen a CONCACAF Champions League defeat. In order for that to continue, defender Johnny Acosta understands the supporters will play a pivotal role (h/t to Boxscore News). "A home has to be respected," said Acosta.
"I think we have done that. Most important, is also that the stadium is going to be full. The fan base always help us a ton. They play a very important role, but, all the same, we have to respect our home turf and go for the win," he added.
"We want to win this match. We want to go to the Club World Cup. We are thankful to the fan base because they always have supported us and that the stadium is going to be full certainly motivates us."
Will the stadium motivate the club to another CCL victory? Tell us @SportsWN
Tactical Preview
Player to Watch: Alajuelense's Jerry Palacio scored a crucial goal in the club's 2-0 victory over Arabe Unido in the CCL quarterfinal. The 31-year-old is responsible for half of the club's goal productivity this tournament with three goals.
Alajuelense's Projected Linuep (3-4-3): Pemberton; Gutierrez, López, Sancho; Salvatierra, Araya, Rodriguez, McDonald, Ortiz; Venegas, Palacios
Toluca's Projected Lineup (4-2-3-1): Talavera; Gamboa, Galindo, Dueñas, Trejo; Wilson Tiago; Velasco; Esquivel, Salgueiro; Nava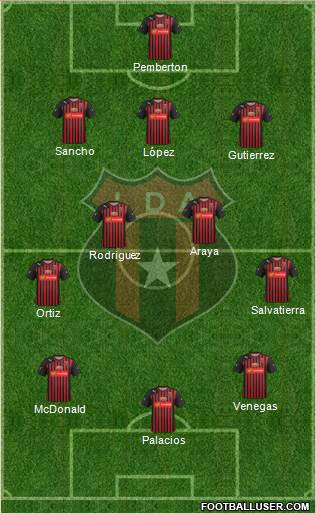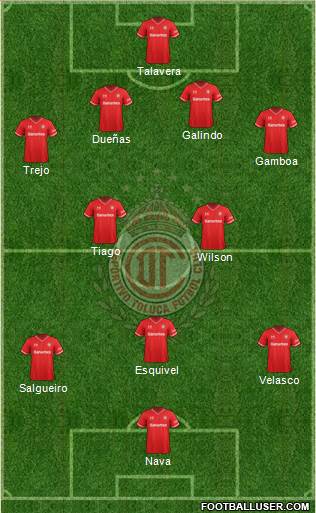 Like Us on Facebook
© 2016 Sportsworldnews.com All rights reserved. Do not reproduce without permission.